Our team is composed of accomplished professionals dedicated to leveraging unique and remarkable technologies to aid the healthcare community in improving disease detection, monitoring, and treatment.
Founder, Board Director, Chief Scientific Officer
Dr. Wang is the Leland T. Edwards Professor in the School of Engineering at Stanford University. As well, Dr. Wang is the Associate Chair and Professor of Materials Science & Engineering, a Professor of Electrical Engineering, and a Professor of Radiology at Stanford School of Medicine.
Dr. Wang directs the Center for Magnetic Nanotechnology and is a co-Principal Investigator for the Center for Cancer Nanotechnology Excellence for Translational Diagnostics. He has over 290 publications and holds more than 60 issued or pending patents in the areas of magnetic nanotechnology, biosensors, nanofabrication, spintronics, power management and information storage. He has been elected a Fellow of the Institute of Electrical and Electronics Engineers (IEEE) and a Fellow of American Physical Society (APS) for his seminal contributions to magnetic materials and nanosensors. He has received numerous other awards, including the XCHALLENGE Distinguished Award (2014) and XPRIZE Bold Epic Innovator Award (2017). Dr. Wang obtained his Ph.D. in Electrical and Computer Engineering from Carnegie Mellon University in 1993.
Dr. Pourmand received his Master of Science and his Ph.D. from the Karolinska Institute in Stockholm, Sweden, in 1997 and 1999 respectively, in Experimental Medicine and Rheumatology. He joined the Stanford Genome Technology Center in 1999 as a post-doctoral fellow working with Ronald Davis to develop new technologies. He co-developed the MagArray technology and developed charge-based DNA sequencing, which is the underlying technology for Ion Torrent system.
In 2008 he joined UC Santa Cruz as a faculty member, and with his team he has been developing innovative tools that enable sweeping advances in knowledge. His research falls into two distinct but interrelated areas that share the common thread of leveraging the interface of bioelectronics and DNA sequencing to advance studies in the field of nanogenomics. The technology was recently described in Nature Nanotechnology as a major advance in Single Cell Genomics and was recognized by the NIH with their awarding to Dr. Pourmand of the Phase 1 and phase 2 as the first place Prize winner from the NIH's "Follow that Cell Challenge" for the development of this single cell nanogenomic technology.
Robert L. White, the William E. Ayer Professor of Electrical Engineering and Professor of Materials Science and Engineering, Emeritus, chaired the Stanford Department of Electrical Engineering from 1981 to 1986. He is an expert on the medical electronics of the artificial ear, magnetic materials, and the atomic origins of magnetic properties.
Bob met his future wife, Phyllis Arlt, when they were both in high school. Bob received his undergraduate education at Columbia College, which he pursued with the help of scholarships and the G.I. Bill. He attended graduate school at Columbia.
In 1970, Bob began to work on the development of a cochlear prosthesis and a cochlear implant for the deaf. Through rich collaborations, Bob and his group were able to overcome the significant challenges involved, including resistance to his work on cochlear implants from some segments of the deaf community.
Bob has served as director of the Exploratorium, an interactive science museum in San Francisco. He has also been involved the early venture capital industry in Silicon Valley as an investor in and consultant for the Mayfield Fund. 
As the CEO of MagArray since 2010, Luis Carbonell has been at the forefront of developing novel, practical uses for magnetic sensor technology that originated from the magnetic recording head industry. With a background in the pharmaceutical and diagnostics industries, he has guided MagArray through the challenges of using a novel technology to develop innovative diagnostic tests for the early detection of cancer and other diseases.
Prior to MagArray, Mr. Carbonell led operations for Oncotech, a CLIA-certified, CAP-accredited clinical laboratory in Southern California that specialized in drug resistance testing for cancer patients.
Earlier in his career, while working at Eisai, a major Japanese pharmaceutical manufacturer, he managed the establishment of pharmaceutical manufacturing, R&D, and sales & marketing subsidiaries in Research Triangle Park, North Carolina and Suzhou, China.
He has extensive experience in negotiating and managing partnerships, especially in international settings and between large and small companies.  He has negotiated deals with pharmaceutical companies, set up joint ventures, transitioned through acquisitions, and managed technology transfers in the US, Europe and Asia. He also possesses a broad level of regulatory experience that includes leading a CLIA/CAP laboratory, managing under cGMP conditions, running a cGLP operation, and dealing with the FDA.
As MagArray's CBO, Haruki brings a wealth of experience to our company. Born and raised in Japan, Haruki was formerly President and CEO of EnBioTec Laboratories, Green Space BioMed, and BioDyn.  He also holds a Life and Environmental Sciences faculty position at the University of Tsukuba (Japan), and an Economics Faculty position at Seikei University (Japan). 
Haruki serves as a Management Committee member of the Metropolitan Bio Genome Network (Ministry of Economy, Trade and Industry in Japan) as well as a Planning Committee member of Committee of Measures for the Promotion of Bio Industry (Tokyo Metropolitan, Japan). 
Haruki received his Bachelor of Science in Molecular Biology from the Science University of Tokyo.
Outside of MagArray, he enjoys classical music; Haruki is a Trombonist of the Nova Vista Symphony in Sunnyvale. He and his wife have been married since 1986.
Sebastian Osterfeld, Ph.D.
Sebastian was promoted to Chief Technology Officer in 2014, after serving as MagArray's president for several years. He grew up in Germany, received his Bachelor of Science at Pittsburgh University, and earned his Ph.D. in Materials Science and Engineering at Stanford University.
At MagArray, Sebastian designs magnetic biochip sensors, builds data acquisition systems and software, and develops MagArray's next generation biochip reader platforms. Sebastian has co-authored multiple patents and is constantly working to improve the technology further.
Vice President, Research and Development
Heng holds a Ph.D. in Chemistry from Washington University in St Louis. As VP of R&D, Heng's focus is on assay development as well as the expansion of magnetic biochip applications. Heng also works to further enhance the magnetic tags and surface chemistry of the biochips. This is key to successfully bridging the chips and bioassays and improving the biochip's performance.
Adam received his Ph.D. from the University of California, Santa Cruz.  After a brief post-doc, he joined MagArray as an Electrical Engineer.  In his current role, Adam oversees the day-to-day operations of MagArray's CLIA lab and assists in the development activities to help bring new tests into our laboratory. 
In his spare time, Adam enjoys spending time with his family and watching scary movies.
Amanda brings three decades of experience to MagArray. In her role as Global Business Leader — Commercial Operations and Strategic Partnerships, Amanda is passionate about improving the health outcomes of patients. She focuses her efforts to maximize meaningful bi-directional scientific and clinical exchange by incorporating external input into MagArray's strategy to impact how the company discovers, develops, and commercializes new oncology diagnostics. Amanda also delivers strategic leadership for defining the commercial path to growth and profitability of the company. This includes leading the development of the company's marketing strategy aimed at achieving market penetration and sales growth and concentrating on cost-effective customer acquisition and market demand generation. Amanda is also responsible for developing and implementing the company's sales strategy across key market segments to ensure that the company identifies and optimizes a clear path to aggressive growth.
Amanda graduated with a Masters in Business Administration from the University of Florida. She resides in Atlanta, Georgia with her husband, two kids, and a mini labradoodle. In her spare time, you can find her hanging with the fam and their awfully cute dog, napping, and cooking great food.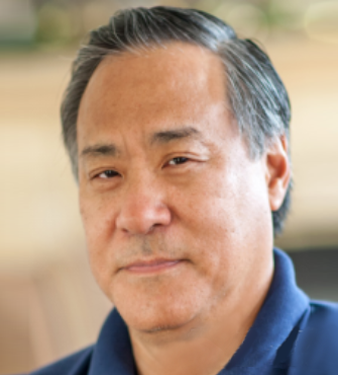 Alan Wu, Ph.D., D.A.B.C.C.
Alan Wu is MagArray's CLIA Laboratory Director. He is also Chief of Clinical Chemistry and Toxicology at San Francisco General Hospital, Professor of Laboratory Medicine at University of California – San Francisco, and Medical Director for the Pharmacogenomics Laboratory. 
Alan received Bachelor of Science degrees in Chemistry and Biology at Purdue University, West Lafayette, Indiana, and a Ph.D. degree in Analytical Chemistry at the University of Illinois, Champaign-Urbana, Illinois. He completed a postdoctoral fellowship in clinical chemistry at Hartford Hospital.  He is certified by the American Board of Clinical Chemistry in Clinical Chemistry and Toxicological Chemistry.
His research interests include pharmacogenomics, clinical toxicology and cardiac biomarkers.  Dr. Wu has over 400 publications in peer-reviewed journals. He has also written five paperback books consisting of short stories designed to promote the value of the clinical laboratory and pharmacogenomics to the general public.
Director, Global Supply Chain
Ed brings over 35 years of experience in process engineering and process development to MagArray. His expertise centers on optimizing processes and procedures. Ed also collaborates with our suppliers to transfer that knowledge to the supply chain for cost effective manufacturing.
Ed earned his Bachelor of Science in Chemical Engineering from Worcester Polytechnic Institute and his Master of Science in Mechanical Engineering (Materials Science) from Northeastern University. 
Outside of MagArray, Ed enjoys playing tennis, gardening, spending time with family including his two amazingly spoiled dogs – Duke and Maggie.
Quality Assurance Supervisor
As MagArray's QA Supervisor, Tae oversees QA for both our Research and Production departments as well as our CLIA Laboratory. In this capacity, Tae manages all our equipment, purchasing, receiving, document control, and accounting support. 
Tae received his Bachelor of Science degree from the University of California, Los Angeles (UCLA). When not at MagArray, you can find Tae spending time with his family, on the golf course, or playing table tennis.